let's meet at North Africa Health 2019 (Egypt)!
let's meet at North Africa Health 2019 (Egypt)!

Egyptian international medical equipment exhibition is Egypt and across North Africa's largest medical exhibition, aims to share medical knowledge and technology and the promotion of medical education, also for participants to provide more publicity channels and a great business opportunities. For the medical field of government personnel, manufacturers, distributors, doctors and experts to provide a knowledge sharing, business meetings and trade to discuss the high-end platform. 2015 MediConex exhibition area of 10000 square meters, at the same time there are about 8000 people from the local and professional participants around the world.
Cairo (Cairo), the Egyptian capital, is the political, economic and commercial center of the Middle East, with a long history of heritage. At present, Egypt's medical market is mainly concentrated in the two cities of Cairo and Alexander, and other places of the medical market together accounted for 10% of the whole country is less than.
At present, Egypt's domestic medical facilities are obviously inadequate, the population is growing, in order to please voters, it can be expected that the new government of Egypt will certainly be invested in medical construction. Medical devices in addition to a tiny percentage of medical equipment (about 1%) by the local production and supply, rely on imported supplies, traditional main supply of state-owned United States (about 30% market share), Germany (20% - 30%), Japan (15 - 20%) and British (5 - 10%), by the Mubarak government funding, the United States has made the Egyptian market dominance, but in the future will certainly have to re shuffle. Chinese medical enterprises need to use the present time, try every means to find the right agents in the local, the Chinese medical products to egypt.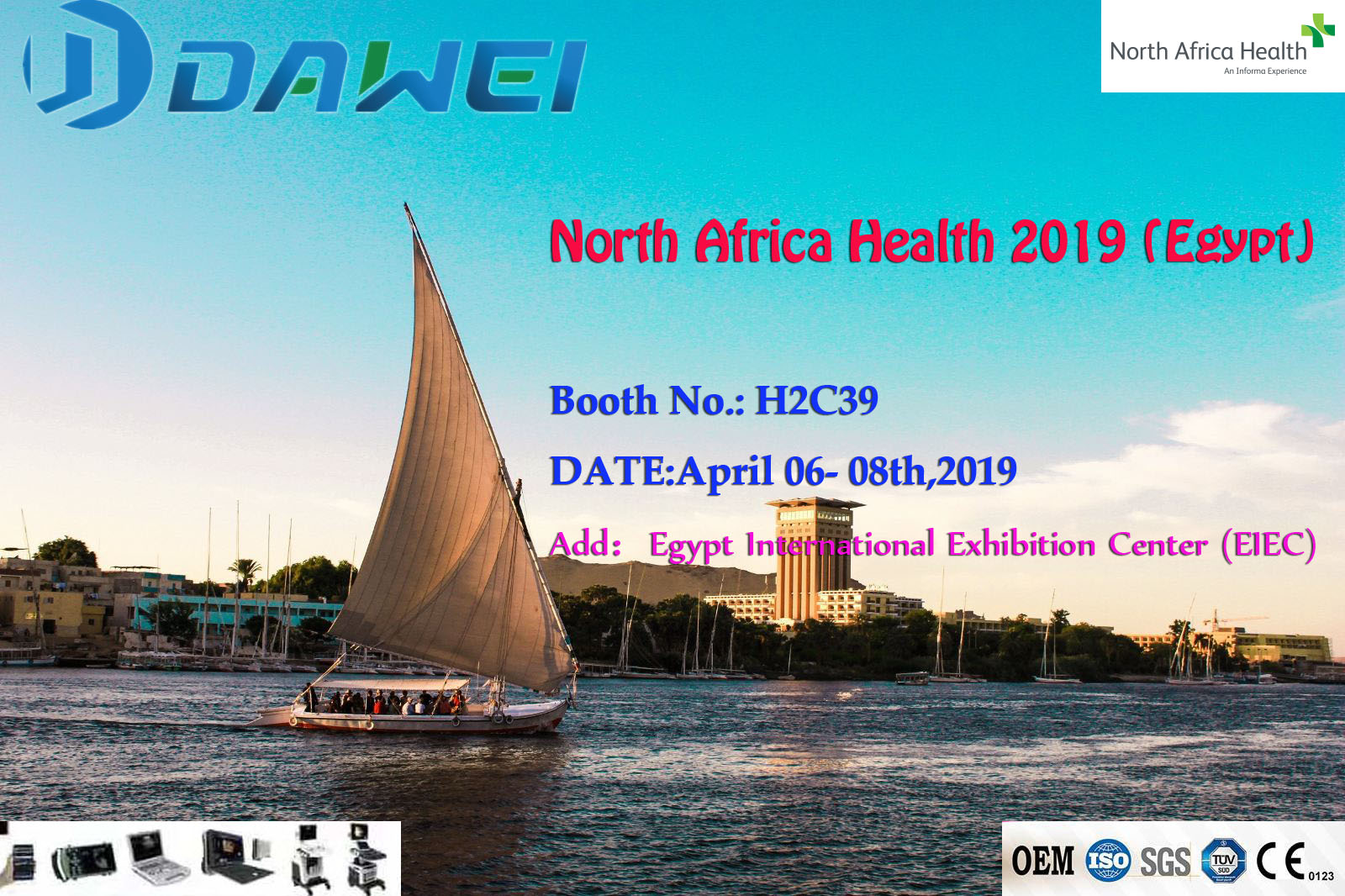 The North Africa Health 2019 will be held in Egypt International Exhibition Center (EIEC).
Pls check the detailed information:

Name: North Africa Health 2019 (Cairo)
Booth NO.: H2C39
Time: 06 - 08 April 2019
Add: Egypt International Exhibition Center (EIEC), Cairo, Egypt.
http://www.dwultrasound.com/, Click our website to get more information about the Ultrasound scanners.
The cardiac echo doppler system, high-end 4D doppler model, smart USB probe, b/w ultrasound and Veterinary ultrasound will make a deep impression on you.

Get the latest price? We'll respond as soon as possible(within 12 hours)